Tortallan Universe
Category page
Talk

0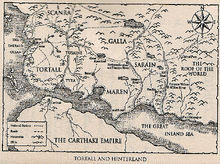 The Tortallan Universe is the setting of the majority of Tamora Pierce's novels. The Song of the Lioness quartet, The Immortals quartet, the Protector of the Small quartet, the Daughter of the Lioness duo and the Rebeka Cooper Trilogy category is the starting point for all articles referring to the Tortallan Universe until they are further categorized.
Subcategories
This category has the following 15 subcategories, out of 15 total.
Pages in category "Tortallan Universe"
The following 61 pages are in this category, out of 61 total.
*

A

B

C

D

E

F

G

G cont.

H

J

K

M

N

O

P

R

R cont.

S

T

V

W