Home
Talk

10
1,375pages on
this wiki
Be Warned! This site, by its very nature, contains spoilers and other information that might influence your enjoyment of the novels. If this concerns you, we advise you to read the works of Tamora Pierce for yourself before exploring any of the articles contained herein.

Welcome to the Tamora Pierce Wiki.
We are currently editing over 1,375 articles, and you can help.
This wiki was created to collect information about the novels and worlds of Tamora Pierce.
There are a lot of people, places, and creatures in her books, and our goal is to create useful, comprehensive articles about all of them.
Everyone can edit pages in the wiki and thus help make it better.
About this wiki | New pages | New files | Active users | Categories | Wiki tutorial | Help pages


Tortallan Universe
Song of the Lioness
The Immortals
Protector of the Small
Trickster's
Provost's Dog
Protagonist: Alanna

Protagonist: Daine

Protagonist: Kel

Protagonist: Aly

Protagonist: Beka

Novels:

Alanna: The First Adventure

In the Hand of the Goddess

The Woman Who Rides Like a Man

Lioness Rampant


Novels:
Novels:
Novels:
Novels:

Terrier

Bloodhound

Mastiff (2011)


Anthology: Tortall and Other Lands: A Collection of Tales


---


Characters


Events


Places
Emelanese Universe
Circle of Magic
The Circle Opens
Circle:
Students:
The Will of the Empress
:
Novels:

Sandry's Book/The Magic in the Weaving

Tris's Book/The Power in the Storm

Daja's Book/The Fire in the Forging

Briar's Book/The Healing in the Vine


Novels:
Melting Stones
:

---


Characters


Events


Places
Featured Article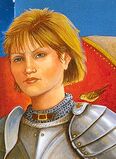 Keladry "Kel" of Mindelan
was the first girl to ask the crown to enter training for
knighthood
since the decree that girls could be allowed. The decree had come as a result of
Alanna of Trebond
completing the training under the guise of being a boy. Kel, who had spent most of her childhood in the
Yamani Islands
, had to overcome the prejudices of the conservatives and her fellow pages until she was accepted. When she became a squire her knight master was
Raoul of Goldenlake and Malorie's Peak
, the Knight Commander of the
King's Own
. Upon receiving her shield Kel fought in the
Scanran War
, commanding the refugee camp
Haven
and killing the enemy mage
Blayce the Gallan
.
She was the heroine and namesake of the Protector of the Small quartet; the name indicated that she defended the small and helpless whenever she learned of injustice.
(more...)
---
Quote of the Moment
Daja: "I don't want to go there. It's cold. It won't like me."
Briar: "It's just ice."
Daja: "And ice and smiths are supposed to mix? I'll freeze and go all brittle and break."
— Daja Kisubo and Briar Moss when they first discovered the Dalburz Glacier with their magical selfes.
---
Where to start
To write a new Tamora Pierce Wiki article, enter the page title in the box below.
News
A recent blog post on Tamora Pierce's prive livejournal seems to reveal the title of the next book in the Circle Universe. In the blog entry titled "Catching Up" Tamora Pierce mentions that she will be working on "Battle Magic". This title would fit…

Read more >
|}