Tortallan royal palace
Talk

0
1,375pages on
this wiki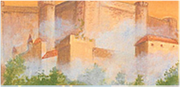 The
royal palace
of the
Tortallan
monarchs was situated in the capital
Corus
, in
Palace District
. The palace was on top of a hill on the southern side of the
Olorun River
and thus marked the city's southermost area.
Palace Way
, a broad road with flat white cobbles, lead from the city to the palace.
[1]
Inhabitants
Edit
Most nobles of the realm have rooms in the palace which are mostly used in winter when the festive season takes place. In the warm months the monarchs often spend their time with journeying through the realm for the purpose of getting to know their subjects and their worries. However, the Tortallan monarchs also have a Summer Palace near the sea.[2] In all other seasons except summer the whole Court dined together in the great dining hall with the pages waiting on the nobles during the reign of Roald I of Conté.[2] This custom was abandoned during Jonathan's reign, who preferred to dine alone with his family. The palace also held rooms for foreign visitors and a servants' wing. Besides the throne room and council rooms there were also ballrooms, kitchens and libraries.[3]
A servant working at the stores was Hugo Longleigh.
The pages training for knighthood are also living at the palace in a separate wing, which was situated on the west side of the palace, near the walls overlooking Corus[4]. They have special classrooms, training grounds and a separate dinging hall. A tower with a bell was situated over the pages' wing.[2] The bell tolled every hour and thus gave not only pages but the whole Court its time.
Notes and references
Edit