Street Magic is the second book in the Circle Opens quartet by Tamora Pierce. It describes how Briar Moss came to his first student, the young ambient stone mage Evumeimei Dingzai, while travelling to Chammur with his teacher, the Dedicate Initiate Rosethorn of Winding Circle temple in Emelan.
Back cover summary
"It's been four years since Briar Moss began his training as a plant mage, but he still hasn't put his past behind him. Wandering through a Chammuri market, Briar comes acroos a street girl using powerful magic to polish stones for a merchant. The ragged girl reminds Briar of the life he led before he left for Winding Circle. He resolves to find her a teacher. But Briar understands the city's gangs as well as he understands Evvy, the young mage. When gang warfare breaks out in Chammur, Briar finds he has sympathy for those caught in the crossfire - and he even helps heal them. Then he discovers that the fiercest gang is seeking a stone mage to lead them to hidden gems. This gang is trying to recruit Evvy. Briar once believed gangs offered protection, but now he and his magic may offer the only protection Evvy can count on. As Briar is swept up in a bloody conflict, he must decide whether he's ready to become a teacher as well as a student- and whether he's ready to make the fianl step away from his former life as a "street rat.""
—Back cover summary, Scholastic's 2001 edition
Plot Summary
While Briar Moss and his teacher Rosethorn are helping the locals in Chammur, Briar realizes that all is not as it should be in Chammur's streets. As a former 'street rat' himself, he tends to have an interest in the affairs of local gangs. He discovers a gang known as the Vipers roaming through territory not their own. After further investigation, Briar discovers that the Vipers are the pet gang of a local noblewoman, Lady Zenadia doa Atteneh, the Amir's aunt. Lady Zenadia gives them new weapons. In exchange the Vipers do her bitting. They gradually work on becoming the only gang in the city, first forcing the Camelguts into joining them and later also fighting the most powerful gang in town, the Gate Lords.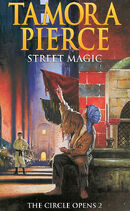 While Briar investigates the Vipers, he discovers Evvy, a local girl with stone magic. At first, she runs away from him, but she gradually learns to trust him. When Evvy singularly refuses to study with local stone mage Jebilu Stoneslicer, Briar takes her training in hand himself. The Vipers attempt to kidnap her many times, so Lady Zenadia doa Atteneh can use Evvy's powers as a stone mage to further increase her riches. When they finally kidnap her, Briar comes, and frees her.
Publication history
The novel was first published on April 1, 2001 by Scholastic as hardcover. The paperback edition followed a year later. Since its first publication there has already been a reissue of the paperback with another coverart. The novel has also been published in the UK under the same name. The UK paperback edition was released on February 15, 2002. Street Magic was also published in Danish under the title of Stenmagi.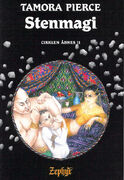 Since April 30, 2006 an audio book of Street Magic is also available, produced by Full Cast Audio. They decided to do the novel before the rest of the Circle Opens quartet to catch the actor who played Briar while he was still in the right age[1].
Characters
Mages
Vipers and associates
Others
Notes and references
↑

Correspondance with Full Cast Audio
External links
See also
Ad blocker interference detected!
Wikia is a free-to-use site that makes money from advertising. We have a modified experience for viewers using ad blockers

Wikia is not accessible if you've made further modifications. Remove the custom ad blocker rule(s) and the page will load as expected.